---
If you need to install Windows 7, but you are not sure how to do it, keep on reading and we will walk you through every step; from what you need before starting to how to make a bootable pen drive or DVD and install the software.
---
---
Follow these steps to create installation media (USB flash drive or DVD) which you can use to perform a clean install of Windows 7.
Before you download the tool, make sure you have:
Internet connection (internet service provider fees may apply).
Sufficient data storage available on a computer, USB or external drive for the download.
Blank USB flash drive with at least 8GB of space or blank DVD (and DVD burner) to create media. We recommend using a blank USB or blank DVD,

because any content on it will be deleted.

When burning a DVD from an ISO file, if you are told the disc image file is too large you will need to use Dual Layer (DL) DVD Media.
---
Check a few things on the PC where you want to install Windows 7:
64-bit or 32-bit processor (CPU). You'll create either a 64-bit or 32-bit version of  Windows 7. To check this on your PC, go to PC info in PC settings or System in  Control Panel, and look for System type.
System requirements. Make sure the PC meets the system requirements for Windows 7. We also recommend going to the PC manufacturer's website for additional info about updated drivers and hardware compatibility.
---
Creating the installation media to install Windows 7
You have two ways to create your installation media: create a bootable USB flash memory (pen drive) or an installation DVD. We recommend to create a Windows 7 bootable USB with Rufus. It is a faster and easier process.
---
1.1. Creating an installation pendrive using Rufus. You will need:
Your Windows 7 ISO file

The latest version of Rufus. Download Rufus here.


Blank pen drive at least 8GB of space. Any content on the flash drive will be deleted.
Once you have the required items, you can start by opening up Rufus. Don't worry about any of the settings here as Rufus will automatically do this for you depending on the type of  ISO you are using:
1) You need to select your Windows 7 ISO file.  Select the icon highlighted as shown, which will let you browse for the required ISO file.
2) Select the file by left-clicking on it once and then clicking on Open.
3) Rufus will now have filled out the fields for you. All you have to do now is hit Start.
4) If your USB is the correct size then you will get a standard warning telling you that any data/partitions that were on the USB before starting the process will be permanently deleted.
5) Click OK, to start. When the process finished, you will have a bootable Rufus Windows 7 pendrive.
---
1.2. Creating an installation DVD using ImgBurn . You will need:
Your Windows 7 ISO file

ImgBurn. Get the latest version on the ImgBurn Download page.

Blank DVD (and DVD burner) to create media.
Once you have the required items, you can start by opening ImgBurn.
1) Click on 'Write image file to disc'  button and insert a blank DVD.
2) Select your Windows 7 ISO file by clicking on the 'Browse for file' button.
3) Click the big 'Write' button. When the process finished, you will have your installation DVD.
---
Install Windows 7 from the media you created:
1. After the installation media is created, follow the steps below to use it.
1.1 Attach the pendrive or insert DVD on the PC where you want to install Windows 7.
1.2 Restart your PC, and then press any key to boot from the USB flash drive or the  DVD.
*If you restart your PC and your current version of Windows starts, you might have to open a  boot menu or change the boot order in your PC's BIOS or UEFI settings so that your PC boots  from the media. To open a boot menu or change the boot order, you'll typically need to press a  combination of keys (such as F2, F12, Delete, or Esc) immediately after you turn on your PC.  For instructions on changing the boot order for your PC, check the documentation that came  with your PC or go to the manufacturer's website. 
---
2. On the Install Windows 7 page, select your language, time, and keyboard preferences and then select Next .
---
3. Click on ' Install now'
---
4. When you reach the "Which type of installation do you want?" screen, click "Custom" to perform a clean installation and remove everything on your PC.
---
5. On the next screen, select the hard drive you want to install Windows on and erase it. If you have multiple partitions on that drive, you may want to erase those as well.
Warning: When you delete a partition, you're also deleting all the files on that partition. Be sure you have backups of any important files before doing this!
When you're done erasing partitions, you should have a big block of "Unallocated Space". Select that, click "New", and once it's formatted your drive, click Next.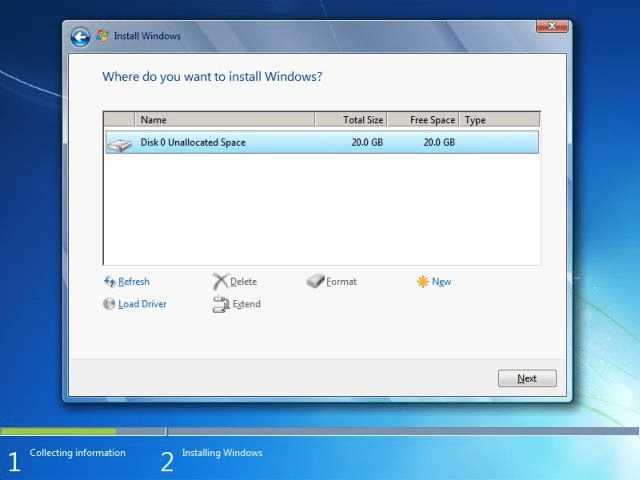 ---
6. Windows 7 will install itself and may restart a few times during this process.
---
7. Provide your username and a computer name.
---
8. The next step is to activate your Windows. Enter the product key we provided in our email.
---
9. Configure your time zone.
---
10. Configure your location.
*Your location will determine the firewall settings for your newly installed Windows 7. You  have three choices: home, work or public network. Home and work networks are supposed  to be trusted, so you should not experience any problems adding other machines to your  group or sharing data with them.
However, the public network is meant to be untrusted. So if you have installed Windows 7  in, let's say, Internet cafe, then you should choose the third option.
---
11. Remember to install all the last updated drivers for your computer.
If you have some questions, or if you are experiencing any problems or difficulties, don't hesitate to contact us. Turnkey Point Customer Service is always at your disposal.