If you need to install Windows 10, but you are not sure how to do it, keep on reading and we will walk you through every step; from what you need before starting to how to make a bootable pen drive DVD and install the software.
Follow these steps to create installation media (USB flash drive or DVD) you can use to clean install Windows 10.
Before you download the tool, make sure you have:
Internet connection (internet service provider fees may apply).
Sufficient data storage available on a computer, USB or external drive for the download.
Blank USB flash drive with at least 8GB of space or blank DVD (and DVD burner) to create media. We recommend using a blank USB or blank DVD because any content on it will be deleted.
When burning a DVD from an ISO file, if you are told the disc image file is too large you will need to use Dual Layer (DL) DVD Media.
---
Check a few things on the PC where you want to install Windows 10:
 64-bit or 32-bit processor (CPU). You'll create either a 64-bit or 32-bit version of  Windows 10. To check this on your PC, go to PC info in PC settings or System in  Control Panel, and look for System type.
System requirements. Make sure the PC meets the system requirements for  Windows 10. We also recommend going to the PC manufacturer's website for additional info about updated drivers and hardware compatibility.
---
Creating a bootable pendrive or DVD to install Windows 10:
1. Click on the link provided in our email. Select Download tool now and run it. You need to be an administrator to run this tool.
---
2. If you agree to the license terms, select Accept.
---
3. On the What do you want to do? page, select Create installation media for another PC and then select Next.
---
4. Select the language, edition, and architecture (64-bit or 32-bit) for Windows 10.
---
5. Select which media you want to use:
USB flash drive. Attach a blank pen drive with at least 8GB of space. Any content on the flash drive will be deleted.
ISO file. Save an ISO file to your PC, which you can use to create a DVD. After the file is downloaded, you can go to the location where the file is saved, or select Open  DVD burner, and follow the instructions to burn the file to a DVD.
---
Install Windows 10 from the media you created:
1. After the installation media is created, follow the steps below to use it.
Attach the pen drive or insert the DVD on the PC where you want to install Windows 10.
Restart your PC, and then press any key to boot from the pendrive or the  DVD.
*If you restart your PC and your current version of Windows starts, you might have to open a  boot menu or change the boot order in your PC's BIOS or UEFI settings so that your PC boots from the media. To open a boot menu or change the boot order, you'll typically need to press a  combination of keys (such as F2, F12, Delete, or Esc) immediately after you turn on your PC.  For instructions on changing the boot order for your PC, check the documentation that came with your PC or go to the manufacturer's website. 
---
2. On the Install Windows page, select your language, time, and keyboard preferences, and then select Next.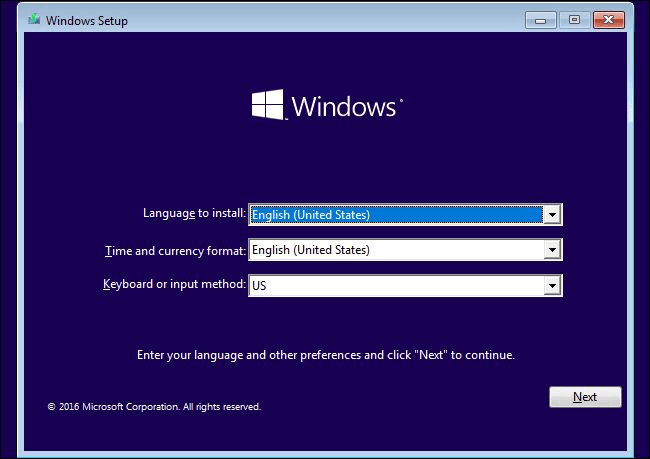 ---
3. Click on ' Install now'
---
4. When you see the Activate Windows screen, you'll need to either enter a key or skip it. If you've never installed and activated Windows 10 on this computer before, enter your Windows 10 key here.
You may not see this screen if Windows 10 automatically detects a key associated with your  PC's hardware.
If you've previously taken advantage of the free Windows 10 upgrade offer on this PC, click  "I don't have a product key". Windows will automatically activate with a "digital license"  associated with your computer hardware on Microsoft's servers once it's installed.
---
5. When you reach the "Which type of installation do you want?" screen, click "Custom" to perform a clean installation and remove everything on your PC.
---
6. On the next screen, select the hard drive you want to install Windows on and erase it. If you have multiple partitions on that drive, you may want to erase those as well.
Warning: When you delete a partition, you're also deleting all the files on that partition.  Be sure you have backups of any important files before doing this!
When you're done erasing partitions, you should have a big block of "Unallocated Space".  Select that, click "New", and once it formatted your drive, click Next.
---
7. Windows 10 will install itself and may restart a few times during this process. When it's done, you'll see the normal setup interface you see when setting up  Windows 10 on any new PC, where you can add user accounts and adjust various settings.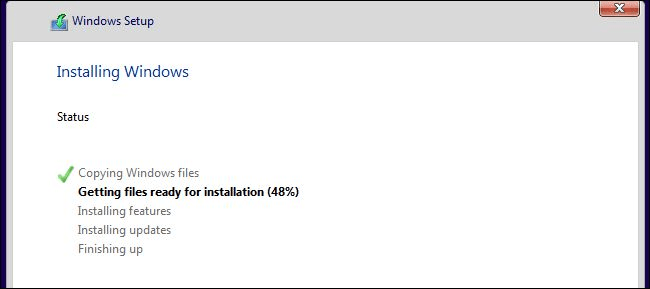 ---
8. Remember to install all last updated drivers for your computer.
If you have some question, or if you are experiencing any problem or difficulty, don't hesitate to contact us. Turnkey Point customer service is always at your disposal.