Are you trying to install Windows 11 but don't know how to do it or just need a refresher? If you are at a loss, please continue reading or reach out to TurnkeyPoint's customer support team.
There are a few ways to install Windows 11. First, you can download the Windows Media Creation tool or do an in-place upgrade. The second option is a clean or custom installation. This installation method guarantees a 90% success rate.
Warning! A clean install will erase everything on the drive that the previous Windows OS is installed on.
Although Windows will automatically create a folder for the Old Windows files, it is still worth checking your files and creating a backup for them.
System requirements to install Windows 11
Before diving into a clean/custom install of Windows 11, you need to check if your computer meets Windows 11 minimum system requirements.
You can test your computer by using Microsoft's PC Health Check app. If you have a new computer, make sure that it meets Windows 11 minimum system requirements as enumerated below:
CPU: 1GHz or faster with two or more cores on a compatible 64-bit processor or system on a chip (SoC)
RAM: 4GB
Storage: 64GB or larger
System firmware: UEFI, Secure Boot capable
TPM: Trusted Platform Module (TPM) version 2.0
Graphics card: Compatible with DirectX 12 or later with WDDM 2.0 driver
Display: High definition (720p). The display must be greater than 9 inches
For comprehensive Windows system requirements, visit Microsoft's product page for Windows 11.
If your computer meets the requirements, all you need to do now is buy a license key from Microsoft or TurnkeyPoint.com.
Create a Backup before Windows 11 fresh install
If you are creating a new custom-built computer from scratch, you can start by checking the system requirements before installing Windows 11.
However, everything will be removed if you install a new OS on top of an existing one. By everything, we mean everything. Office and other apps will not also run, as you will need to reinstall these programs. Thus it is important to back up all the files, games, and applications you care about.
If you have not created one, visit our article on How to backup your files before a clean/custom install.
Creating an installation media
This step can be done either before or after creating your backup. What are the ways to create installation media? There are a couple of methods for creating one.
Through Windows Media Installation Tool
Using Rufus, a third-party software
Please click the link for the detailed steps for each method, 2 Easy Ways of Creating a Bootable Media.
Installing Windows 11
Once you have your Windows 11 installation media ready, all you need to do is boot from the USB thumb drive to begin.
Note: Each manufacturer has its own Boot menu hotkey that you need to press to access Bios or UEFI. To learn which key you need to press, read our article on how to access the boot menu.
1 After choosing the boot option, the computer will begin loading the installation file from the USB. A black screen will then open, asking you to press any key to boot. Please press any key to proceed.
2. The Windows logo will appear on the screen, this might be here for a while, as long as you see the animating dots, everything should be ok.
3. Select your Language, Time, and Keyboard method then click Next.
4. Click Install now
5. Windows 11 setup will prompt you for a product key during installation. If you originally upgraded from Windows 7 or Windows 8/8.1 click the option 'I don't have a key and 'Do this later. Or if you have a Windows 10 or Windows 11 product key, you can proceed by entering it.
However, if you do not have a product key yet, you can choose to do it later. Visit our Windows product listings.
6. Setup will also prompt you to select the edition you have a license for – Home or Pro. Please make sure you choose the right edition. If you choose the wrong edition, your only option will be to install Windows 11 again.
Note: TurnkeyPoint only sells two Windows 11 edition product keys, Home and Pro.
7. Accept the license terms then click Next
8. Select Custom Install Windows Only
9. Select Partition
If you have multiple partitions listed, select each one (starting at the bottom), then click delete until there is only a single (one) unallocated drive displayed in the window. Please bear in mind that this action will delete all data saved on those partitions. Make sure to have a backup of all important files before undergoing this step.
10. Next, you need to select the unallocated drive listed, click New, click Apply then OK.
This will split the drive into multiple partitions, select the Primary partition then click Next.
NOTE: The System Reserved partition is where recovery files are kept for diagnostics and repairing damaged Windows 11 files, or even in reinstalling Windows 11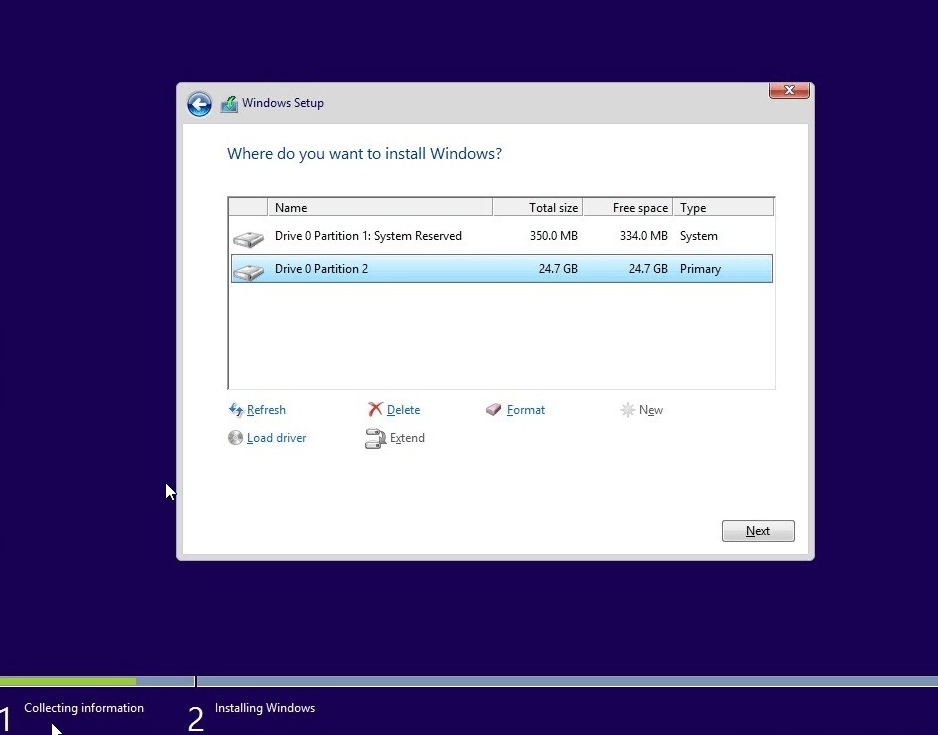 11. Wait while Windows installs
12. When the Setup phase is complete, Windows will automatically restart and then reboot into setup again.
During this stage, Windows is detecting and installs your hardware. After completing the installation, Windows will restart one last time.
After doing Windows 11 custom/fresh install, it will allow you to finish up the installation by customizing your machine using its Out-of-the-box experience, or OOBE for short.
Out-of-Box Experience after installing Windows 11
Windows 11 comes with an OOBE. Also known as the Out of the Box Experience, it is where you get the chance to introduce yourself to Windows or customize certain functionality before you reach the desktop. Whether you upgrade from a previous version of Windows, purchase a new device preinstalled with Windows 11 or perform a clean install, your first experience will be the OOBE.
This includes creating or signing into a user account, connecting a wireless network or business domain, and optimizing the device for specific activities such as work, education, or gaming. You won't be able to skip this step to complete the installation process.
First, OOBE will ask you which keyboard layout you want to use. You can skip the secondary Keyboard layout. However, if your machine includes a touchscreen function, you may also select a convenient layout for it.
You will also need to Accept the user agreement before proceeding to the next phase of the Windows 11 out-of-box experience.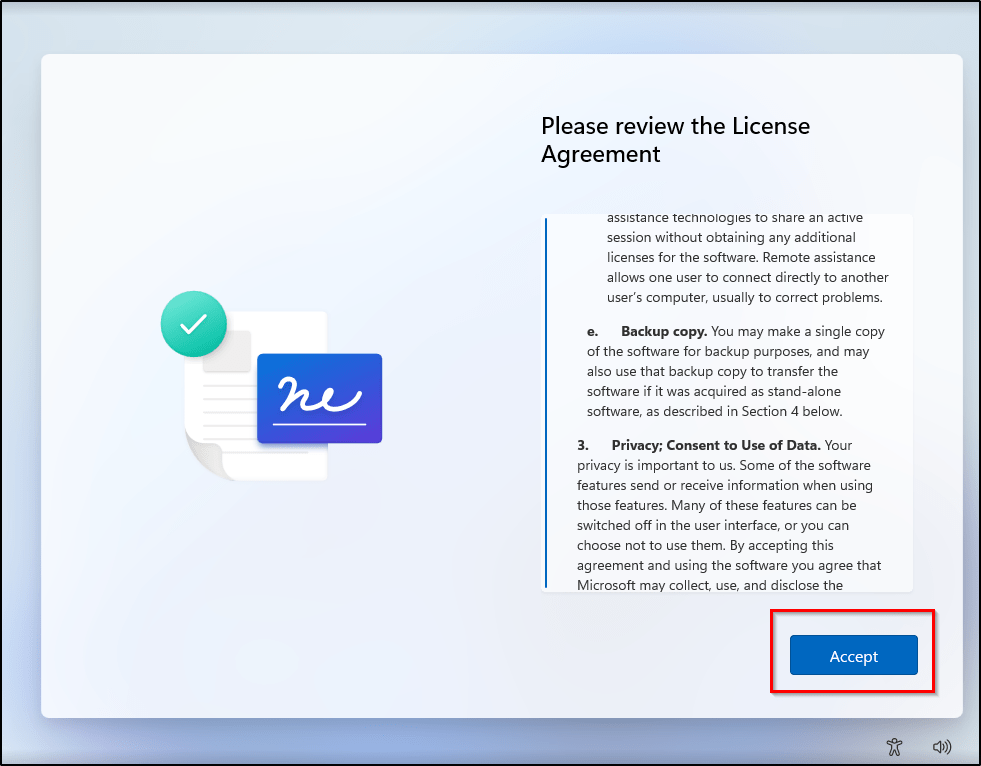 After selecting the keyboard layout and accepting the license agreement, Windows will proceed with your customization. In this stage, you can Name your computer. As it is optional, you can skip this part.
The next customization is setting the Windows device as Personal or Work/School use. This would apply the necessary function and features tailored to your needs.
Windows 11 Out of the Box Experience would also require you to sign in with an MS account. If have an active MS account or you want to create one, you can sign in here.
However, if you do not want to use or sign up with Microsoft, you can disconnect your computer from the internet during the Setup stage. It should bypass signing in to your MS Account or creating an MS Account. Instead, Windows 11 will ask you to create a User Account and a PIN rather than signing in with an MS account.
After signing in with an MS account or bypassing the account setup stage, you will then ask to create a user account and PIN. It is a secure and fast way to log into Windows 11. Moreover, you can use both numbers and letters to create a PIN you can easily remember. The benefits are, you don't have to worry about potentially compromising a password, which can easily occur if someone is peeking over your shoulder.
OOBE will provide you with additional personalization settings, and follow through with the prompts by selecting the features you want on your device. Once OOBE is done, you can simply reconnect to your network and update the OS.
Voila! You have completed Windows 11 installation, congratulations!
Have you already installed Windows 11 but you don't have a product key yet? No problem, visit our listing for Windows 11 Pro and Home Edition.
We also provide excellent quality product keys at an affordable price! Are you looking for Office licenses to install on your new Windows 11? Look no further, click here: Microsoft Office Licences, Affordable & Official | Turnkey Point.
If you need any help to install Windows 11, you can always reach out to TurnkeyPoint's friendly Customer Support Representatives. We are always happy to help!