Do you need to make a backup of your data before doing a Fresh/Clean install? Of course, you have to! Continue reading to learn how to back up and restore your files, apps, and drivers.
If you are installing Windows on a new computer, no need to worry, you can go ahead and install the OS.
1. Backup and prepare your old Windows files
However, when installing a new OS on an existing system, for example, Windows 8.1 to a later Windows edition, you might need to make a backup of your files. A Clean/Custom install would remove all applications and files on your computer. When we say everything, we mean everything.
So if your files on the old Windows are not organized, now is a good time to start sorting them in your computer's User account folder. The easiest way to do this is to browse on the left-hand Explorer bar to C:\Users\[Your User Account] to expand User folders. In the right-hand panel browse to all locations with unsorted files and drag or copy them separately or in groups to the desired User folder on the Explorer bar.
For more steps on how you can sort out your files, please check this article from PC World.
Then make a backup of your files by dragging or copying your named User account or active User folders to another hard drive, external hard drive, flash stick, disk, or OneDrive app. Once copied to your backup storage double-check that all files made are intact. After backing up to OneDrive confirm all files/folders within have a green check mark and right-click its icon to Exit for the reinstall.
If you have Sticky Notes, copy any Sticky Notes into Notepad and save the file to your backup storage.
2. Backup browser settings before a clean/fresh install
Saving your browser settings Each browser has different ways of syncing or saving your settings. In Edge export Favorites as an HTML file to your backup at Settings > Import from another Brower > Export to file.  You can also sync your Favorites, Passwords, and History by signing into Edge with your Microsoft Account in Edge Settings > Profile > Sync.
Another service you want to save is the browser settings. It is sometimes vexing to use a browser that is not tuned to your personal setting. Most browsers will also let you set up a sync to store your browser settings, Favorites, and history in a Google account, Firefox Sync, or similar. Saving your browser settings is also convenient since it saves your access to your favorite websites, bookmark, and so on. Moreover, you can also check your log credentials if they are saved on the browser you are using.
If your email is stored on your computer, Google how to backup your specific email and account settings. For other browsers, please check the links below:
Import or export bookmarks – Chrome Help
Sync Chrome data across devices
Export Firefox bookmarks to an HTML file to backup or transfer
How do I set up Sync on my computer? | Firefox
When you sync, you can find and update your synced info on all your devices, like bookmarks, history, passwords, and other settings. You can sign in automatically to email, YouTube, Search, and other services.
3. Prepare and backup your email services before a clean/custom install
When doing a clean install, all services you have on your computer will be reset. This will also affect your email services. If you have email services, please check the links below for some email services you can backup:
Backup and Restore all Outlook data
How do I import and export email, contacts, and calendars with Windows Live Mail? – Microsoft Windows Help.
Profiles – Where Thunderbird stores your messages and other user data | Thunderbird Help
Export your data from Gmail – Gmail Help
Note: For other email couriers, you might need to search for their support articles on how to backup the service.
4. Gather your program installers
You need to check the installers for every game and app you care about!
Almost all Windows Store games store the game history in your Microsoft Account. However, you need to check other games to be sure there isn't a game history folder that you need to backup first. Popular games nowadays also store your game information on their servers. If you have saved your login credentials somewhere on your computer, make sure you transfer them to your backup storage.
You can check your control panel to see which programs are installed on your computer. Take note of the programs that you want to reinstall before performing a clean/custom install.
Note: some apps on older Windows operating systems may not work on a later Windows system, on Windows 10 or 11.
For those lacking reinstall media for programs, you may find them on the program's Support Downloads webpage. Additionally, your favorite pre-installed apps may be found on the Downloads webpage for your model computer or manufacturer-provided Apps Disk. If you are unable to find your present apps install, and product key information, download and run Belarc Belarc Advisor – Belarc, Inc. The Belarc Advisor displays a detailed profile of your installed software, hardware, and security vulnerabilities in your Web browser.
Another good tool you can use to reinstall your favorite apps is Ninite. It installs and updates all your programs at once, Ninite – Install or Update Multiple Apps at Once. This makes a custom installer you can save and keeps all app installers updated within.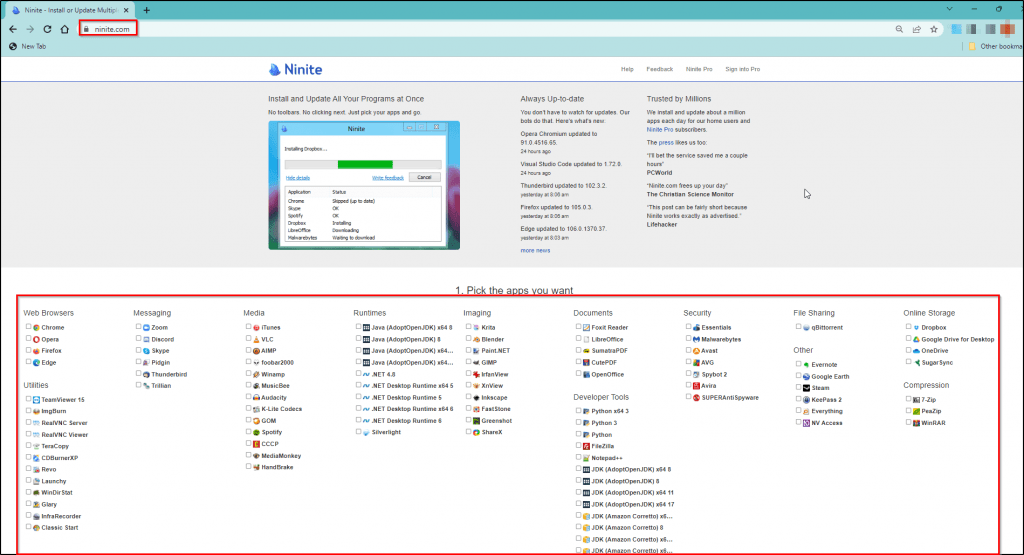 Create a backup plan for reinstalling Office
Remember, you need to save all documents before doing a clean/custom install. Unsaved files are irretrievable.
Even if the app is erased, you can still reinstall Microsoft Office. It can be redownloaded and reactivated with the Product Key you originally bought with it. You can reach out to a Turnkeypoint Customer Representative to assist you in reinstalling Office on your computer.
5. LAN and WiFi drivers
Windows installation media includes LAN and WiFi drivers that go with your device. However, just in case, save in advance your Wireless or Ethernet (wired) LAN driver in your backup so if it isn't provided during installation you can install it to get online quickly to install all Windows Updates, which will also update the drivers.
The computer's network LAN driver can be found on the Support Downloads webpage for your model PC or device. The exact make/model will be listed in your Device Manager under Network Adapters.
GPU after a clean/custom install of Windows
A clean install erases the hard disk or SSD, you would need to reinstall all your hardware drivers. In your PC's Start menu, type "Device Manager," and press Enter to launch the Control Panel's Device Manager. Click the drop-down arrow next to Display adapters, and it should list your GPU right there. We highly recommend that you visit the manufacturer's website and take a closer look at how to update a specific Graphic card.
Are you ready to install your OS? Click the link below to get redirected to our installation guides:
Don't have a product key yet? Visit our listing for Windows product keys here, Windows Licences, Affordable & Official | Turnkey Point
Are you looking for Office products to install on your Windows? We got you covered, click here Microsoft Office Licences, Affordable & Official | Turnkey Point