Introduction:
Microsoft Corporation has introduced Microsoft Office 2019, which contains a premium suite of all the tools and applications you need to use for your daily activities. Once you opt to buy Office 2019, you can get your hands on the premium range of familiar applications that makes your life easier. Along with the classic Office applications like Word, Excel, and PowerPoint, this latest software from Microsoft allows you to access the benefits of HD video conferencing, up-to-date documents, calendars, email, etc.
Why would you like to buy Microsoft Office 2019?
Microsoft Office 2019 is remarkable in quite a few ways. For starters, it is a one-time release, and the rumors are that it could possibly be the final perpetual license or the non-subscription version of the Office suite, before the corporation decides to permanently leverage its cloud-based Office 365 to its customers. Hence, if you opt to buy Office 2019, you could get many advantages like the following along with a reasonable Microsoft Office 2019 price.
Microsoft Word has text-to-speech, Translator, Learning Tools, @Mentions, Focus Mode, Inking, and Accessibility.
PowerPoint contains @Mentions and 3D modeling, Morph Transitions, Zoom, Play in-click sequence, etc.
Excel enables you to publish in Power BI and is feature-loaded with Power Query enhancements, Power Pivot, AI-driven Excel Insights, and several others.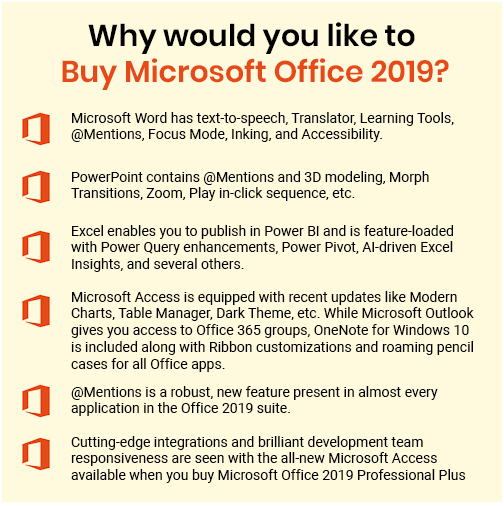 Microsoft Access is equipped with recent updates like Modern Charts, Table Manager, Dark Theme, etc. While Microsoft Outlook gives you access to Office 365 groups, OneNote for Windows 10 is included along with Ribbon customizations and roaming pencil cases for all Office apps.
@Mentions is a robust, new feature present in almost every application in the Office 2019 suite.
Cutting-edge integrations and brilliant development team responsiveness are seen with the all-new Microsoft Access available when you buy Microsoft Office 2019 Professional Plus variant.
Microsoft Office 2019 price:
For the Home and Student version compatible with a single PC or Mac and caters to a single person, the Office 2019 price is 149.99 USD. It is a one-time purchase or a non-subscription version for a single PC or Mac. It is dedicatedly licensed for home usage and contains Microsoft support enabled for 60 days without any additional cost.
On the other hand, if you decide to buy Office 2019 for home and commercial usage, you can opt for the one-time purchase of the non-subscription version of the Microsoft Office 2019 Home and Business. The Microsoft Office 2019 price for its Home and Business variant is 249.99 USD. It can be installed effortlessly on a single PC or Mac and includes Microsoft Support for 60 days without extra cost.
What is the catch when you opt to buy Microsoft Office 2019?
One downside of getting the Office 2019 suite's one-time purchase is that the range of applications like Word, Excel, Powerpoint, and more are available on the dedicated device you install it in and cannot be automatically upgraded. If you wish to update your applications, you need to buy a newer version of Microsoft Office.
How to buy Office 2019?
If you are willing to buy Microsoft Office 2019 for your Mac or PC, you need to have the following requirements satisfied:
Microsoft account
Internet access
Windows 10 Home or Pro version or Mac OS Extended
1.6 GHz, 2-core processor (for PC) or Intel Processor (for Mac)
1280X768 screen resolution (for PC) or 1280X780 screen resolution (for Mac)
4 GB available disk space (for PC) or 10 GB available disk space (for Mac)
4 GB, 2GB (32 bit) RAM (for PC) or 4 GB RAM (for Mac)
Once you have catered to the following requirements, you can proceed to buy Office 2019 Home and Student version or the one dedicated for Business use. Go to the Microsoft store, log in with your Microsoft account credentials, and buy your desired version by paying the suitable Microsoft Office 2019 price. You can pay using various trusted options like Netbanking, Paypal, wallets, and other reliable payment interfaces.
Keep in mind!
Opting to buy Office 2019 from unverified sites or those portals which are not as credible as Microsoft can land you in a lot of trouble. You might lose your money. Additionally, you might land up with a non-performing or a defunct version of Office with you.
Summing up:
Several Volume Licensing options for Microsoft Office feature various types of User Subscription Licenses (USL) like the Full USL, From SA USL, Step-up USL, and Add-on USL. Most of these are for Office 365 customers and meant for an organization or enterprise usage. Thus, the perpetual Microsoft Office 2019 that is available as a subscription version or a one-time purchase can only be bought via the above procedure to continue enjoying the perks of the Office suite.