1. How to Export Outlook Contacts
Technology nowadays moves at an incredible rate. Software updates, model upgrades, newer hardware, and software are coming out faster than ever before.
It wouldn't be surprising that at one point, you will need to get a new computer or laptop and set up your contacts on a new version of Microsoft Outlook.  As daunting as this may sound, migrating Outlook contacts is actually quite a simple and straightforward process.
This guide on Migrating Outlook Contacts works on Outlook 2013 and later versions. It will take you through the method of Exporting your contacts, which you can then Import or transfer to another computer or Outlook version.
If your copy of Outlook is too old or outdated, it might be time for your to upgrade to a later Office application such as Office 2019 or Office 2021. TurnkeyPoint sells high-quality product keys at a very affordable price! Feel free to browse our Office products here, instant MS Office 2021 product keys.
Exporting, one way of migrating Outlook contacts
Exporting is the process of preparing your contacts for transfer. The information is gathered and saved into a CSV file format (Comma Separated Values) since this allows for easy readability by most applications.
Step 1: Open the Outlook Menu. Select "File"
Click on the "Open & Export" option.
Select "Import/Export"
Step 2: Choose "Export to a file"
Step 3: Choose Comma Separated Values as the format (CSV)
Step 4: Select the folder to export from
Carefully select the folder that you are exporting. In this case, it would be your contacts list that is under your account.
Step 5: Choose Browse, name your file and choose OK.
Ensure that it is saved as a CSV on the Save as type: box
Confirm the location where your new contacts file will be saved, you will be able to choose the folder and path. Then choose Next > Finish.
You will be able to tell if it's complete once the progress bar is full and the box goes away completely.
Step 6: Double-check the file that you've just created.
Open it in Excel to verify that your contacts are there. Do not edit or change anything. Simply close out of Excel once you are done viewing.
Now that the contacts are copied to a .CSV file, they can be transferred to another PC with Outlook or to another email application. In order to do that, you will need to "Import" the saved CSV file. Migrating Outlook contacts is super easy! Continue reading on how to Import Contacts to Outlook
2. How to Import Contacts to Outlook
With how fast technology changes, you will eventually need to upgrade your OS and reinstall your essential apps. Along with that comes the task of reinstalling Microsoft Office and transferring your saved contacts from an older version of Outlook to a newer one. Or just migrating Outlook contacts between the same Outlook versions.
This can be done by "Importing", which is also one of the ways of migrating Outlook contacts. It is the process of transferring data from a saved database or spreadsheet and saving it to a new destination. Contact data stored in a spreadsheet like Excel or Google sheets can be easily imported into any version of Outlook.
This guide will teach you how to Import all of your contacts and provide step-by-step instructions on how to complete the task. The screenshots below are for Outlook 2021. Screens in other versions of Outlook may differ slightly, but the steps are the same and may have a few variations.
Importing to a Desktop Version of Outlook
Step 1: Click on "File" > select "Open & Export" > and then click on Import / Export
Step 2: In the Import and Export Wizard, select Import from another program or file, then click Next.
Step 3: Select Comma Separated Values (CSV), then click Next.
Step 4: Click Browse, then locate the CSV file that contains the contacts you want to import.
There are 3 options to choose from when importing the file:
Replace duplicates with items imported – If the data on your CSV file is more recent, choose this option to overwrite the old data stored in the current contact list.
Allow duplicates to be created – This will allow you to retain the old data alongside the newly imported data.
Do not import duplicate items – This will allow you to only import contacts that have no current duplicates on the contact list.
Click Next after selecting the option most applicable to you.
Step 5: Select the Outlook folder into which you want to import the contacts.
This may be your Contacts folder, or it can be located in any of your other folders. You can also create a specific folder just for imported items.
Click on Next at the bottom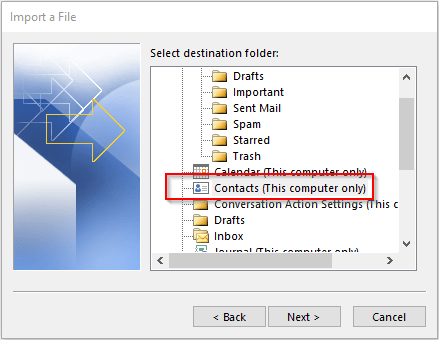 Step 6: Map all columns from the CSV file to the preferred Outlook address book fields.
Outlook automatically maps some fields. You can edit and change these if they are not mapped correctly. Once all the fields are checked, click OK > Finish starting the import process.
3. Importing contacts from the web version at Outlook.com
If you are using the web-based version of Outlook online, you can upload your contacts through the CSV file to Outlook.com as well. The process is a bit different from the installed app versions.
Step 1: Log into your Outlook account at Outlook.com.
Open the Applications Launcher located at the top left (9 dots icon) and click People.
Step 2: Click on Manage > Import Contacts
Step 3: Click Browse and select the CSV file to import.
Step 4: In the Import contacts dialog box, click Import.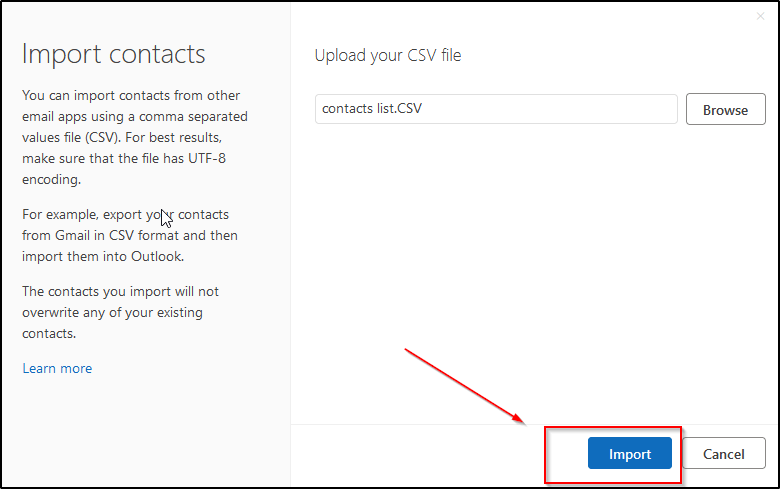 Your contacts will be uploaded and imported to your Outlook.com email account.
When the process is finished, click Close. You'll find the new contacts in your Outlook address book.
Closing
After migrating Outlook contacts, whether Exporting or Importing them, you might experience some errors. If you do, don't fret, you can try solving the problem by using Microsoft's article, Fix Migrating Outlook Contacts. You can also reach out to TurnkeyPoint's friendly Customer Support Representatives for assistance! We are available 24/7.
Are you looking for the latest MS Office application? Visit our product page for more information, Office 2021 Pro Plus! We sell affordable yet high-quality instant product keys.