Before installing Office on Mac, make sure your machine meets the system requirements. Are you searching for affordable Microsoft Office Home and Business for Mac product keys? Look no further, click here!
If you are reinstalling Office, meaning you have already redeemed a product key, then go to your Microsoft account and sign in to download and install Office.
Important: Keep in mind that you can only redeem Office with the product key once. In the event that the download is interrupted, please sign in to Microsoft's account center, Microsoft account, using the same Microsoft Account associated with the product key. Then click the Services & Subscriptions tab, scroll down to the Product you've purchased section, look for the product, and click Install.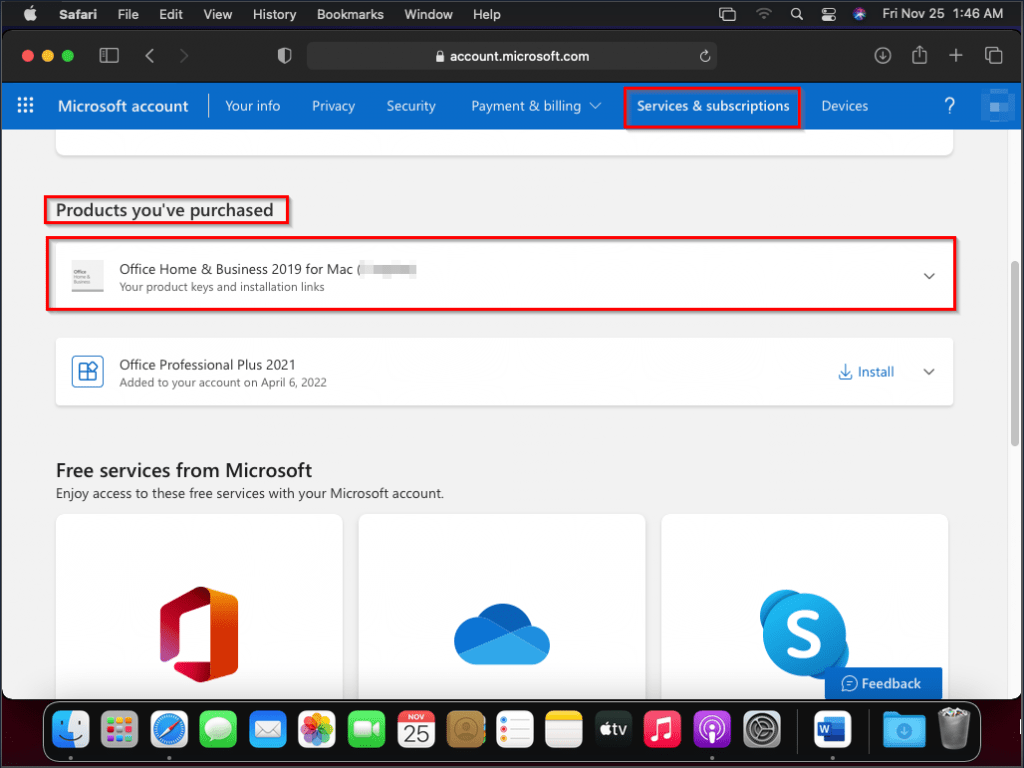 If this is the first time you're installing Office, you may have a couple of pre-installation steps to do. First, you would need to remove other Office installations, such as Office 365. And run Microsoft's license removal tool.
Step 1- Redeem Office from setup.office.com to install Office on Mac
Once you have uninstalled other Office applications or other document processing tools, you can proceed with installing Office on your Mac.
1. Go to setup.office.com and if you're not already signed in, select Sign in.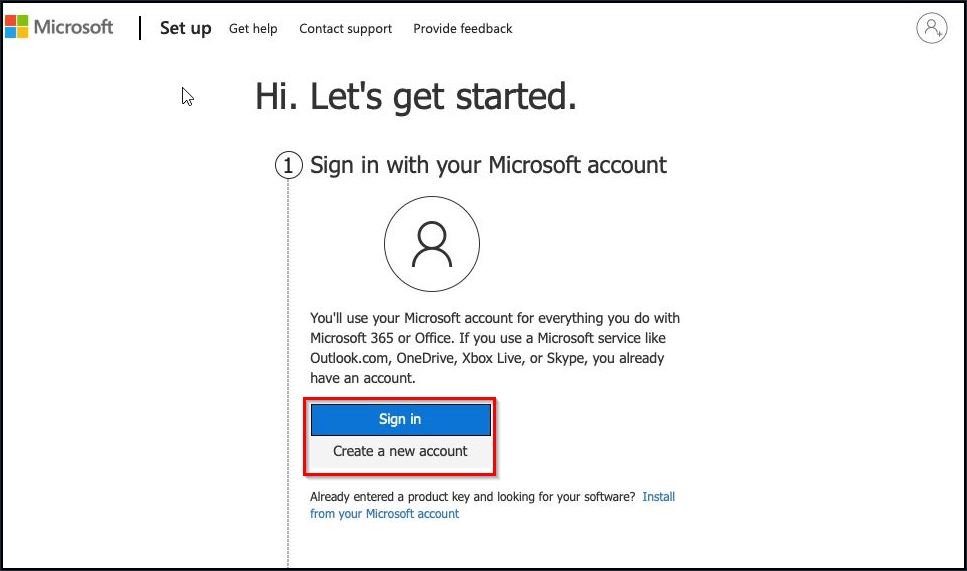 Note: If you do not have a Microsoft Account yet, select Create a new account. You need to remember the credentials. The same Microsoft Account is needed to access the product and in activating your copy of Office Home and Business on your Mac.
2. Sign in with the account you associated with this version of Office. This account can be a Microsoft account, or a work or school account.
3. After signing in, proceed in redeeming Office by placing your product key. You can manually type in the code, but it is easier to copy the entire product key and paste it on the field, then hit enter.
4. Select your region and click next. It will start downloading Office install .pkg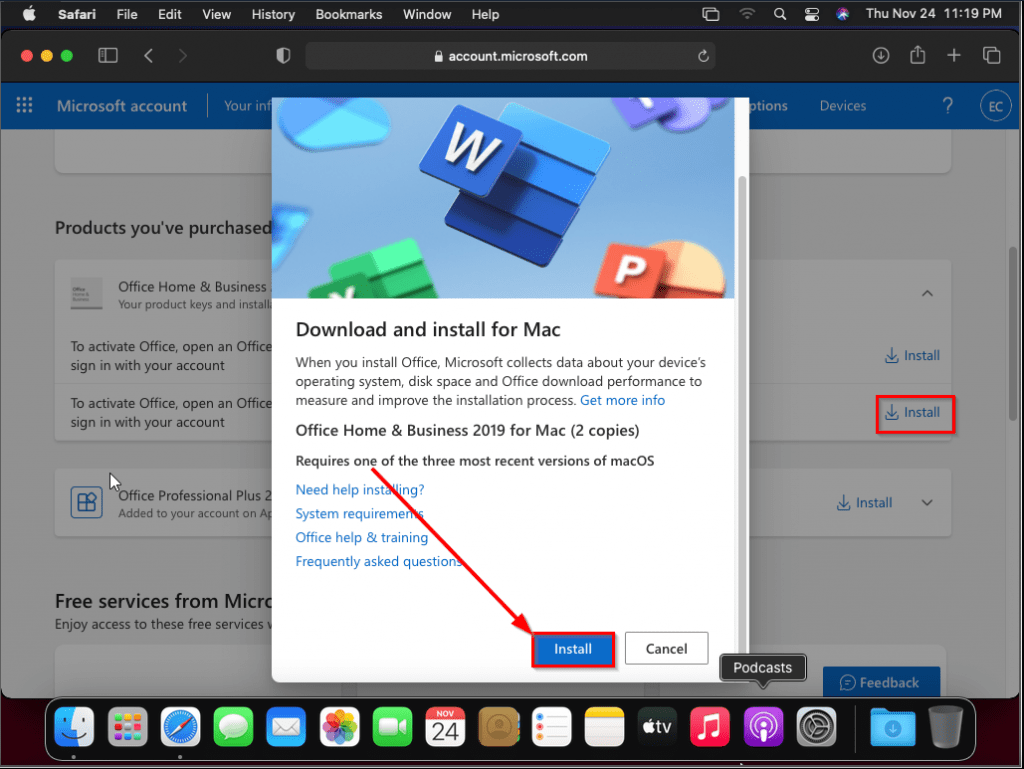 Note: Apple will ask permission to continue downloading Office from Microsoft, click Continue
Step 2- Installing Office on Mac
1. Once the download has been completed, open Finder, go to Downloads and double-click the Microsoft Office installer .pkg file (the name might vary slightly).
Tip: If you see an error that says the Microsoft Office installer. pkg can't be opened because it is from an unidentified developer, wait 10 seconds and move the downloaded file to your desktop. Hold Control + click the file to launch the installer.
2. In the first installation screen, select Continue to begin the installation process.
3. Review the software license agreement, and then click Continue.
4. Select Agree to the terms of the software license agreement.
5. Choose how you want to install Office and click Continue.
Note: If you want to only install specific Office apps and not the entire suite, click the Customize button and uncheck the programs you don't want.
6. Review the disk space requirements or change your install location, and then click Install.
7. Enter your Mac login password, if prompted, and then click Install Software. (This is the password that you use to log in to your Mac.)
8. The software begins to install. Click Close when the installation is finished. If Office installation fails, see What to try if you can't install or activate Office for Mac.
Note: While you can re-download the Office installer from your Microsoft account, you can also keep it in case you need to reinstall Office on your Mac
Step 3- Activating Office on Mac
To activate Office, you need to open Word or Excel. You only need to sign in to one application to activate the entire Office suite.
1. Click the Launchpad icon in the Dock to display all of your apps.
2. Click the Microsoft Word icon in the Launchpad.
3. Sign in using the same Microsoft Account associated with your product key.
The What's New window opens automatically when you launch Word. Click Get Started to start activating.
If Office activation fails, see What to try if you can't install or activate Office for Mac.
Additional steps after installing Office for Mac
How do I pin the Office app icons to the dock?
1. Go to Finder > Applications and open the Office app you want.
2. In the Dock, Control+click or right-click the app icon and choose Options > Keep in Dock.
Voila! You have successfully installed Office on mac. If you are having issues installing Office, you can always reach out to Turnkeypoint.com's friendly customer support for assistance.