The email has been around for decades and is one of the oldest and most useful means of digital communication. Fast forward to 2022 and email is still the medium of choice for companies all across the globe. Saving emails using .PST File is easy, continue reading to find out how!
Everything from Customer Support, Marketing newsletters, and Sales outreach is still choosing email as a popular method to deliver and reach the respective clientele. Since this is such an essential part of everyday business, it would be wise to know how to create backups in case of data loss, theft, accidental deletion or computer crashes.
With technology moving at an incredible rate, an upgrade to your Outlook version, or computer in general is likely to happen sooner than later.
This guide will teach you how to make a backup and save your emails, which you can then transfer to another Outlook or computer.
The screenshots were made in Office 2021 and may differ slightly compared to an earlier version of Outlook. However, the process remains largely the same across all Outlook versions starting from Outlook 2013 and up.
If you are using Outlook on a Mac, please visit this support about saving .PST File on Mac.
Saving emails into a backup .PST file
Emails can be saved into a backup file by creating it in a . PST file format. This allows Outlook to create one single file where you can store all your important emails.
Step 1: Open Outlook, begging the step of saving .pst file
Click on File > Open & Export > Import/Export
Step 2: In the first step of Import and Export Wizard, select Export to a file, and then click Next.
Step 3: Select Outlook Data File (.pst file) and click on Next
Step 4: Select the email account that you want to back up.
If you'd like to include subfolders under the main folder, ensure that the "Include subfolders" box is ticked. This will save and export the contents of all folders underneath. This is very handy if you have organized multiple emails into their own separate category.
You also have the option to select a specific folder, be it a main or subfolder if you only want it to be more specific. The general rule is that Outlook can only export emails by folder. So if you have multiple main folders or want to pick and choose which ones you want to save, you will need to repeat the exporting process a couple of times individually.
Step 5: Select the destination folder for your save the file by clicking on Browse.
There are 3 options that you can choose from:
Replace duplicates with items imported – If you have an existing .pst file with the same name and want more recent data to replace it, choose this option to overwrite the old data stored in the file.
Allow duplicates to be created – This will allow you to retain the old data alongside the newly saved data.
Do not import duplicate items – This will allow you to only import data that have no current duplicates on the already existing .pst file.
If you've exported your Outlook data before, the previous folder and the file name will appear. To prevent overwriting the previous backup, be sure to type a different file name before clicking Finish
Step 6: If your emails contain sensitive information, you have the option to specify a password.
This is to ensure that no one but you can access them. In this case, enter and confirm a password, and then click OK. If you would like to skip this step, simply leave both fields empty and click OK…
When exporting to an existing .pst file that has a password, type the password that you previously used.
When exporting to a .pst file without a password, The process will begin immediately without showing the password dialog box.
Keep in mind that exporting a big .pst file may take some time, and the progress bar will stay on the screen until the whole process is completed.
Congratulations! You have just finished backing up your emails!
How to Restore saved emails
Restoring emails can be done through the process of "Importing"
Importing a PST file to Outlook is a very useful function. In the event of a system crash, this is useful to restore data on computers. The great advantage of this method is that by backing up the data in a PST file, all Outlook data is physically located in one place, so you can access it whenever you need it.
This can also be used to synchronize your Outlook data. For example, when swapping or changing workstations and you have outdated email data, you can manually import your most recent saved emails via a .PST file to update your mailbox. This is especially useful if you are not able to update your inbox automatically due to work-related security permissions.
When you import PST files, emails, old and pending calendar entries and tasks will all be integrated, and you will be able to import all existing Outlook contacts as well.
There are two ways to Import your data. The guide below will take you through the process of the method. Both have their advantages and are open to your preference.
Method 1: Import the .PST file as an Outlook data file
Outlook allows users a convenient way to integrate archived folders. This way you can easily add PST files and use them as a kind of alternate or sub-folder that shows up as a separate record in the profile.
The advantage is that the data is not transferred to an existing profile and mixed up with existing emails and calendar entries but instead appears as a separate part in the overview on the left. If desired, integration into an existing profile is also possible.
Step 1: Click on "File" choose "Open & Export" and select "Open Outlook Data File"
Step 2: Select the file to import.
Locate the .PST file that you created.
By default, it can be found in Documents > Outlook Files. This can change depending on the location where you saved it.
Select the file and click OK at the bottom.
It now appears under the Outlook data file. Right-click and choose to copy the folder of your choice onto the desired Outlook profile by right-clicking and selecting "Copy folder"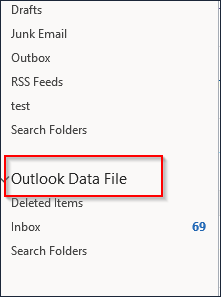 Select the destination folder. Click "OK" to confirm.
Method 2: Import using the Outlook Import Assistant
This is a more straightforward method of importing PST files. The Outlook Import Wizard. Allows you to determine whether you want to transfer all or only certain data of a PST file during import.
Step 1: Select "File" and choose "Open & Export". Click on "Import/Export".
Step 2: Select "Import from another program or file" then click on "Next "
Step 3: Select the PST file that you wish to Import. Then click on "Next"
Step 4: Open the PST file you wish to import.
Click on "Browse" in order to locate the file. During this step, you can specify whether you want to replace duplicates with the import.
Click "Next" to complete this step.
Step 5: You also have the option to import certain parts of a directory or subfolders of an Outlook PST file.
You can view them by expanding the main Outlook Data File folder as shown in the example. Then click on "Finish" to complete the data import.
You have successfully Imported your emails! Congratulations on a job well done!
Feel free to browse our Blog for more tech tips and How-to-guides. Please visit our store for quality Microsoft Office and Windows keys.