Is creating a bootable USB Windows installer hard?
Not at all, it is as easy as pie! There are a couple of ways you can create a Windows Bootable media USB. In this article, we will attempt to provide you with two of the easiest ways.
Before you begin, here are a few things you need to prepare:
Good to an excellent internet connection (internet service provider fees may apply).
Sufficient data storage is available on a computer, USB, or external drive for the download.
Blank USB flash drive with the appropriate space for the operating system you want to install. Although you can use other storage mediums, we recommend using a blank USB as it is more. The contents can also be deleted after installation.
A product key. Your 25-character product key (not required for digital licenses).
If you do not have a product key yet, no problem, you can still make a Windows bootable media for free! Visit TurnkeyPoint for affordable and excellent-quality Windows product keys.
Check a few things before making Windows Bootable Media
Whether you're buying a new device or upgrading an existing computer, it's important to check the system requirements. It is the same when installing a new Windows operating system. Checking that your computer meets the system requirement ensures that the OS and computer hardware are compatible.
Before creating a Windows bootable media, check the system requirements below for each OS:
Windows 11 system requirement: Windows 11 Specs and System Requirements | Microsoft
Windows 10 system requirement: Windows 10 system requirements
Windows 8 system requirement: System requirements
Windows 7 system requirement: Windows 7 system requirements
Since Microsoft has ceased providing support for Windows 7 and 8, technical assistance and software updates from Microsoft that helps protect your PC are already unavailable. In line with this, we strongly recommend installing Windows 10 or the latest Windows system, Windows 11.
Create Windows bootable media USB using Windows Media Creation Tool
You can use it to create installation media (a USB flash drive or DVD) to install a new copy of Windows. In addition, you can also perform a clean installation, or reinstall Windows with it.
However, please note that this step is only available for Microsoft-supported Windows versions, Windows 8.1, 10, and 11.
To make a Windows bootable media, go to Microsoft's software download website, where you'll find step-by-step instructions. On that website, you need select a version of Windows and create your own installation media using either a USB flash drive.
Step 1. On Microsoft's download site, click Download the tool now. And wait for the download to finish.
Don't forget to plug in the target USB you want to create the Windows installation media on.
Step 2. After downloading the tool, click the setup executable for Window Media Creation Tool.
Step 3. You need to click Yes when the User Account prompts you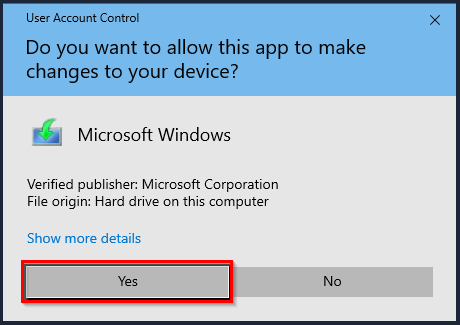 Step 4. Accept the Microsoft licensing terms
Step 5. Select Create an installation media and click Next
Step 6. Choose the default Language, Edition, and Architecture you want for your Windows OS
Note: You need to uncheck the box, Use the recommended options for this PC, to change the options.
Step 7. Select the USB flash drive as your installation medium
Step 8. Select the USB you want to use for the media
Step 9. Wait for the tool to finish. It may take 20-30 minutes for the tool to finish- a perfect time for a break or get a drink.
Step 10. Ta-da! Your Windows bootable media USB drive is now ready. Safely eject the USB from the computer and proceed to install Windows on your target device.
Although you can reuse the USB for your other storage needs, we recommend that you keep the USB as your backup installer if ever you need to reinstall or fix the OS.
Creating Windows bootable media USB using Rufus
Rufus is an open-source program that allows you to create an "ISO image". It is beneficial in formatting and creating Windows bootable media USB flash drives, on devices such as USB keys/pen drives, memory sticks, etc. Moreover, Rufus is compatible with Windows 7 to create a bootable USB. If you don't have a different computer that runs on Windows 8.1, 10, or 11, Rufus is the best alternative.
To create a Windows bootable media USB using Rufus, download the latest Rufus version from Rufus – Create bootable USB drives the easy way. You also need to download the ISO files for different Windows OS from Software Download.
Step 1. Once you have downloaded and installed the program, open Rufus and plug your clean USB stick into your computer. You can locate the tool in the Downloads folder on your computer
Step 2. Rufus will automatically detect your USB. Click on Device and choose the USB you want to use from the drop-down menu.
Step 3. Make sure the Boot Selection option is set to Disk or ISO image then click Select. Rufus will open a file explorer browser window; locate the ISO image you want to burn onto the USB and select it.
Step 4. You'll generally want to create a Standard Windows installation, and Rufus will automatically detect the correct Partition Scheme based on your device, you can keep the default settings as they are. Although, you can also change them depending on the system you want.
Step 5. You may also change the Volume label with a name of your choice or leave it as it is. However, leave the default settings for File system and Cluster size. Then click Start
Note: if the USB you're using isn't large enough, you'll get an error message you letting you know. In this case, you'll need to start again with a different larger USB.
Step 6. A warning will prompt that the data on the USB will be destroyed (this is normal). Click OK and Rufus will start creating the ISO image on the USB.
Step 7. Voila! Once Rufus has finished creating the ISO image on the USB, you can close it and your bootable USB is ready to go!
Bonus: Since Microsoft does not provide iso files for Windows 7, after your purchase at TurnkeyPoint.com, you will receive a delivery email with the download link for Windows 7.
Alternatively, Rufus has the option to download other Windows Operating systems including Windows 7. Using Rufus to create Windows bootable media is not only ideal but also efficient.
To do that, simply click the dropdown menu beside the Select button> change it to Download> and click Download. Then choose which Windows ISO you want to download by clicking the dropdown arrow.
After clicking Continue, you need to select the edition of the Windows ISO you want. Please make sure to choose the corresponding Windows to your product key. You will also have to select the architecture of your operating system, 32-bit or 64-bit. Once you are done, click Download.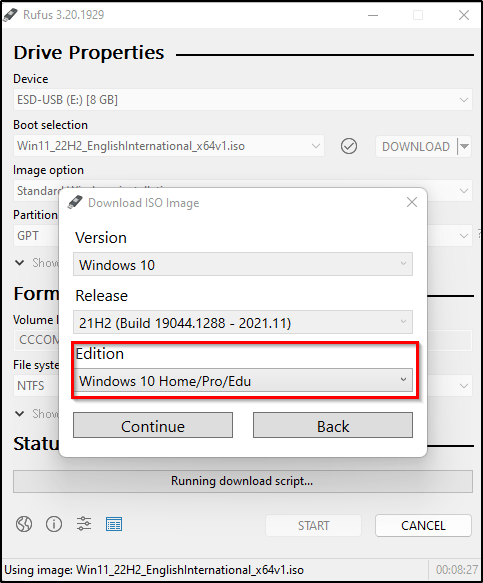 You have finally created a Windows bootable media, now the next step is to proceed with installing Windows on your target computer.
You don't have a product key yet? No problem, visit our listing for Windows products here: Windows Licences, Affordable & Official | Turnkey Point
We sell excellent quality product keys for Windows at an affordable price!
Need help? You can always reach out to TurnkeyPoint's friendly Customer Support Representatives. We are always happy to help!